These homes are selling for far more than they're worth. By Chris Jennings December 16, 2020, Real Estate Investing 101View as Galler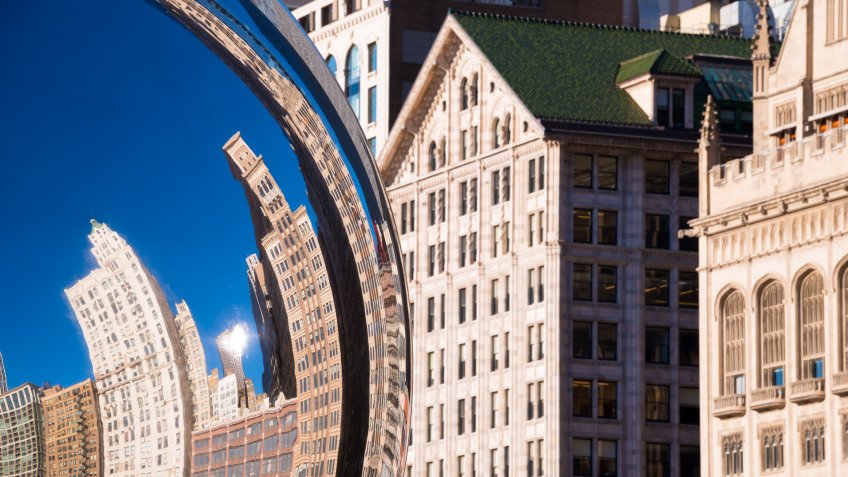 The U.S. is currently experiencing its longest economic expansion on record. Over the past decade, gross domestic product rose, unemployment rates fell and thoughts of the Great Recession faded into the abyss of time. While all of that was happening, much of the U.S. housing market recovered as well. U.S. home prices were up more than 50% in 2018 since bottoming out in the 2008 recession, according to global property analytics firm CoreLogic, and they're expected to increase by 5.6% by September 2020.
Check Out: You Might Actually Be Able To Afford a Mansion in These 20 States
The steady rise in home values is an encouraging sign for the economy, but too much growth can lead to instability — and instability naturally leads to collapse. A hot housing market may indicate a budding town with a healthy employment rate, attractive jobs and growing wages. However, it could also mean that sellers are becoming greedy and listing homes far above their natural value.
Read More: Best Places in Every State to Get a Vacation Home
To determine which housing markets in the U.S. are the most overpriced, GOBankingRates used data from Zillow to analyze the difference between the median list price and median home value for single-family residences in the nation's largest housing markets. Home values in these cities are growing especially fast — Chattanooga, Tennessee, for example, saw a 14% increase in home prices over the past year alone, according to a separate GOBankingRates study. Prospective homebuyers should be wary: One of these cities could be the location of the next housing bubble.
Last updated: Dec. 16, 2020
50. Little Rock, Arkansas
Median list price in 2019: $218,415.10
Median home value in 2019: $140,360
Difference between list price and home value: $78,055.10
49. Overland Park, Kansas
Median list price in 2019: $396,944.45
Median home value in 2019: $318,550
Difference between list price and home value: $78,394.45
48. Greenville, South Carolina
Median list price in 2019: $269,716.50
Median home value in 2019: $190,640
Difference between list price and home value: $79,076.50
47. Glen Allen, Virginia
Median list price in 2019: $404,193
Median home value in 2019: $324,520
Difference between list price and home value: $79,673
46. Goldsboro, North Carolina
Median list price in 2019: $167,234.95
Median home value in 2019: $87,330
Difference between list price and home value: $79,904.95
45. Mission, Texas
Median list price in 2019: $210,977.25
Median home value in 2019: $129,980
Difference between list price and home value: $80,997.25
Pictured: McAllen, Texas, a neighboring city
44. Concord, North Carolina
Median list price in 2019: $288,780.85
Median home value in 2019: $207,560
Difference between list price and home value: $81,220.85
43. McAllen, Texas
Median list price in 2019: $219,580
Median home value in 2019: $137,540
Difference between list price and home value: $82,040
See Instead: The Cost To Own a 3-Bedroom Home in Every State
42. Pensacola, Florida
Median list price in 2019: $227,870
Median home value in 2019: $145,350
Difference between list price and home value: $82,520
41. Woodstock, Georgia
Median list price in 2019: $340,976
Median home value in 2019: $257,420
Difference between list price and home value: $83,556
40. Santa Barbara, California
Median list price in 2019: $1,326,575
Median home value in 2019: $1,242,050
Difference between list price and home value: $84,525
39. Escondido, California
Median list price in 2019: $624,533.65
Median home value in 2019: $538,070
Difference between list price and home value: $86,463.65
38. Holland, Michigan
Median list price in 2019: $288,340
Median home value in 2019: $200,960
Difference between list price and home value: $87,380
37. Frisco, Texas
Median list price in 2019: $486,455.60
Median home value in 2019: $398,510
Difference between list price and home value: $87,945.60
36. Allen, Texas
Median list price in 2019: $409,868.20
Median home value in 2019: $319,670
Difference between list price and home value: $90,198.20
35. Beaumont, Texas
Median list price in 2019: $200,773.70
Median home value in 2019: $108,700
Difference between list price and home value: $92,073.70
34. Plymouth, Minnesota
Median list price in 2019: $471,739.50
Median home value in 2019: $377,160
Difference between list price and home value: $94,579.50
33. Sumter, South Carolina
Median list price in 2019: $178,576
Median home value in 2019: $82,400
Difference between list price and home value: $96,176
32. Alpharetta, Georgia
Median list price in 2019: $501,744.20
Median home value in 2019: $405,520
Difference between list price and home value: $96,224.20
31. Los Angeles
Median list price in 2019: $831,343.80
Median home value in 2019: $735,060
Difference between list price and home value: $96,283.80
30. Savannah, Georgia
Median list price in 2019: $232,712
Median home value in 2019: $136,280
Difference between list price and home value: $96,432
29. Napa, California
Median list price in 2019: $780,670
Median home value in 2019: $683,240
Difference between list price and home value: $97,430
28. Olathe, Kansas
Median list price in 2019: $360,485
Median home value in 2019: $263,050
Difference between list price and home value: $97,435
27. Franklin, Tennessee
Median list price in 2019: $575,085.50
Median home value in 2019: $477,640
Difference between list price and home value: $97,445.50
26. Houston
Median list price in 2019: $293,654.40
Median home value in 2019: $195,790
Difference between list price and home value: $97,864.40
Don't Miss: Houses Are Selling the Fastest in These 30 Real Estate Markets
25. Hoover, Alabama
Median list price in 2019: $391,873.30
Median home value in 2019: $293,740
Difference between list price and home value: $98,133.30
24. Tampa, Florida
Median list price in 2019: $324,054.90
Median home value in 2019: $225,020
Difference between list price and home value: $99,034.90
23. Jersey City, New Jersey
Median list price in 2019: $578,090
Median home value in 2019: $478,670
Difference between list price and home value: $99,420
22. Santa Fe, New Mexico
Median list price in 2019: $504,228.30
Median home value in 2019: $400,330
Difference between list price and home value: $103,898.30
21. Chattanooga, Tennessee
Median list price in 2019: $252,585
Median home value in 2019: $146,400
Difference between list price and home value: $106,185
20. Sugar Land, Texas
Median list price in 2019: $410,760.05
Median home value in 2019: $304,180
Difference between list price and home value: $106,580.05
19. Huntsville, Alabama
Median list price in 2019: $262,082
Median home value in 2019: $153,360
Difference between list price and home value: $108,722
18. Charlottesville, Virginia
Median list price in 2019: $444,794.85
Median home value in 2019: $334,840
Difference between list price and home value: $109,954.85
17. Monroe, Louisiana
Median list price in 2019: $208,920
Median home value in 2019: $96,350
Difference between list price and home value: $112,570
16. Newport Beach, California
Median list price in 2019: $2,546,800
Median home value in 2019: $2,433,680
Difference between list price and home value: $113,120
15. The Woodlands, Texas
Median list price in 2019: $456,946.40
Median home value in 2019: $343,520
Difference between list price and home value: $113,426.40
14. Miami
Median list price in 2019: $476,100
Median home value in 2019: $359,150
Difference between list price and home value: $116,950
Find Out: The Best Place To Live on a $100,000 Salary in Every State
13. Tyler, Texas
Median list price in 2019: $263,515.65
Median home value in 2019: $145,100
Difference between list price and home value: $118,415.65
12. Gainesville, Georgia
Median list price in 2019: $304,830
Median home value in 2019: $186,350
Difference between list price and home value: $118,480
11. Chicago
Median list price in 2019: $336,970
Median home value in 2019: $212,260
Difference between list price and home value: $124,710
10. Vienna, Virginia
Median list price in 2019: $936,431.75
Median home value in 2019: $806,110
Difference between list price and home value: $130,321.75
9. Rogers, Arkansas
Median list price in 2019: $321,854.75
Median home value in 2019: $184,960
Difference between list price and home value: $136,894.75
8. Fort Lauderdale, Florida
Median list price in 2019: $496,465
Median home value in 2019: $355,730
Difference between list price and home value: $140,735
7. Irving, Texas
Median list price in 2019: $370,463.35
Median home value in 2019: $226,170
Difference between list price and home value: $144,293.35
6. Boston
Median list price in 2019: $743,090
Median home value in 2019: $596,680
Difference between list price and home value: $146,410
5. New Orleans
Median list price in 2019: $327,650
Median home value in 2019: $168,820
Difference between list price and home value: $158,830
4. Dallas
Median list price in 2019: $387,659.90
Median home value in 2019: $224,620
Difference between list price and home value: $163,039.90
3. New York
Median list price in 2019: $788,240
Median home value in 2019: $616,890
Difference between list price and home value: $171,350
2. Arcadia, California
Median list price in 2019: $1,468,940
Median home value in 2019: $1,228,250
Difference between list price and home value: $240,690
1. Bethesda, Maryland
Median list price in 2019: $1,219,050
Median home value in 2019: $971,090
Difference between list price and home value: $247,960
More From GOBankingRates